#4: "Mystic Creature"
Creator: Netsushi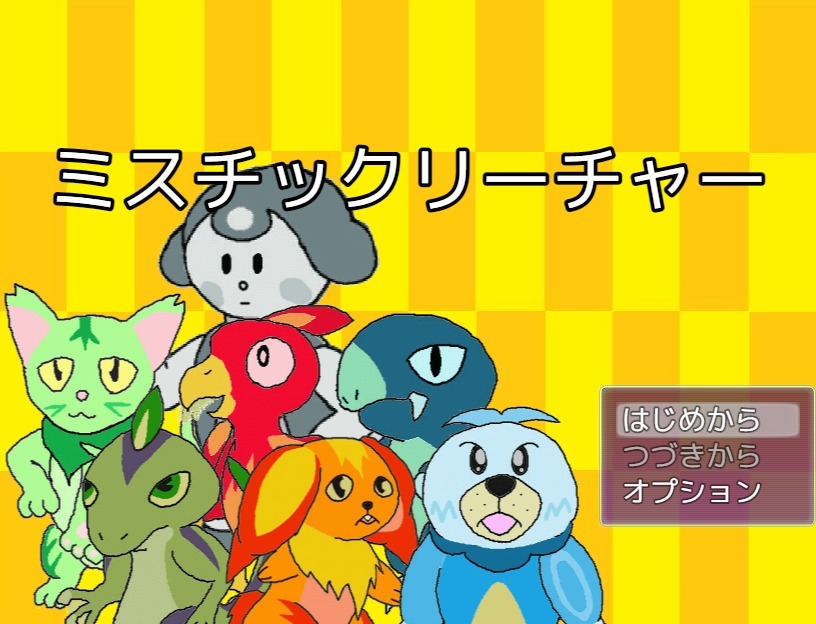 "Mystic Creature" is a hack-and-slash RPG in which four creatures join forces together to defeat a demon king of despair who threatens to destroy the world. You can join forces with 180 different types of creatures! Not only that, each creature has their own unique graphics! Each creature has its own distinct specialties, and can be replaced or leveled up as desired by the player. While inspired by a variety of works, this game conveys the creator's passion in pursuing the ideal form of game desired to create.
Niconico-DIY-Game-Fes Award – RPG Maker Award Winner
*Currently, the game is only available in Japanese.
Interview Questions for Netsushi
What made you create this game?

I'd been doodling in my blank note book since I was a child, and I'd always wanted to bring the characters I drew to life in some way, whether in a novel or a comic book. Thus I decided to make a game based on my ideals and incorporate the characters! I think I was quite able to create the ideal world I envisioned. I would like to supplement the points that I missed in this work in the sequel, taking into account the players' feedback.

What is the must-see point of this game?

As stated in the introduction, I want the players to see the design of all 180 monsters, or shall I say, mystic creatures. For example, I tried not to make the humanoid monsters too close to humans while still making them cute and cool. I also attempted to keep the charm of the creatures before they Kaishin (evolve), so that people would remain attached to them even after they evolved and changed appearance. Sometimes I was criticized for my child-like art style, and sometimes felt self-conscious about my lack of drawing skills, but… I was complimented for the cuteness and charm that my child-like art style enabled me to produce. Because the original art (by me) isn't particularly impressive, it appears that people found it simple to create fan-art for it. As a result, I've received many fanarts, which has made me grow to like my own art style. Of course, I'll keep working to improve my drawing skills, but also try to keep the atmosphere of my drawings that is unique to "Mystic Creature". Please check this article as well to know more about the development of "Mystic Creature": https://jirunessi.hatenablog.jp/entry/2020/05/14/195702

What are your favorite games / games that inspired you?

I'll leave out the well-known "monster game" because it's already mentioned in the game introduction on Atsumaru. Aside from that well-known game "Mystic Creature" is influenced by a number of free games. "Hero_and_Daughter" I was so captured with the game companions' unique appearance and strategy, the abundance of challenging elements, and the ability to unlock hidden elements from the start using secret tricks that I was inspired to incorporate this UI idea into my own work. "Auraru to Hikari no Ryu" (lit. "Auraru and the Dragon of Light") I was moved by how a group of monster girls with diverse appearances and customs joined forces together to fight a common foe, which really inspired my scenario writing and character personalities for "Mystic Creature". "Girls_Carnival!" You cannot beat this game by simply leveling up and defeating the opponent. The consideration of the balance of combat by fully utilizing compatibility, buffs, debuffs, and party formation is simply enjoyable, challenging, and exciting. "Mitsugo no Akazukin to Fushigi no Mori" (lit. "Red Riding Hood Triplet and the Mysterious Forest") It was very interesting to be able to switch between attacker, healer, and other roles depending on the opponent. I was inspired by the depth of strategy combined with the deep and immersive scenario, so I worked hard on game balance. "Pharmacy" I remember being drawn to the hack-and-slash element of collecting materials and synthesizing items the first time I played with Atsumaru, and to incorporate this fun, I have added the "Kaishin" (evolution) system in the game. "Mystic Creature" was inspired by the above 5 games. Please read this article as well if you want to learn more: https://jirunessi.hatenablog.jp/entry/2020/05/28/210000

What do you prioritize when you create games?

I wanted to make a game with as many different endings as there were players, not necessarily multiple endings, but a game that showed each player's unique play style, such as the members of the team at the time of completion, the order in which the players conquered the dungeon, and so on. All of the elements in this game, such as strengthening and joining forces, are unlocked from the start, allowing you to start, allowing you to challenge the game in a perfect state from the first round, or you can try to play with only one person or in a tied game with only one person.

Could you tell us about the advantages of using RPG Maker?

The more experience you gain on RPG Maker, the more creative liberty you can express, leading to your ideal. Furthermore, the ability to incorporate your drawings, music, and scenarios directly into the game will undoubtedly motivate you more than anything else! Even when I'm stuck, I can ask questions on the RPG Maker forum, find answers, and meet new creators, or I can search for answers and be impressed by the progress of others who are struggling with the same issues I am having.My interactions with other people and the use of RPG Maker have taught me communication and research skills that have benefited not only my game creation but also my daily life. I would like to continue working on game development while balancing it with my real-life.
RPG Maker Dev Team Comment:
In "Mystic Creature," we could really feel Netsushi's passion for creating what he desired. In general, one creator's style can be easily influenced by games that have impressed him or her, and it is critical to create something unique from there. This game had a strong sense of originality to us because the creator created all of the creatures himself (not only the graphics, but also the settings and episodes). It was also admirable that he designed the game with the players in mind while still aiming for what he wanted to create.
Must-See Highlights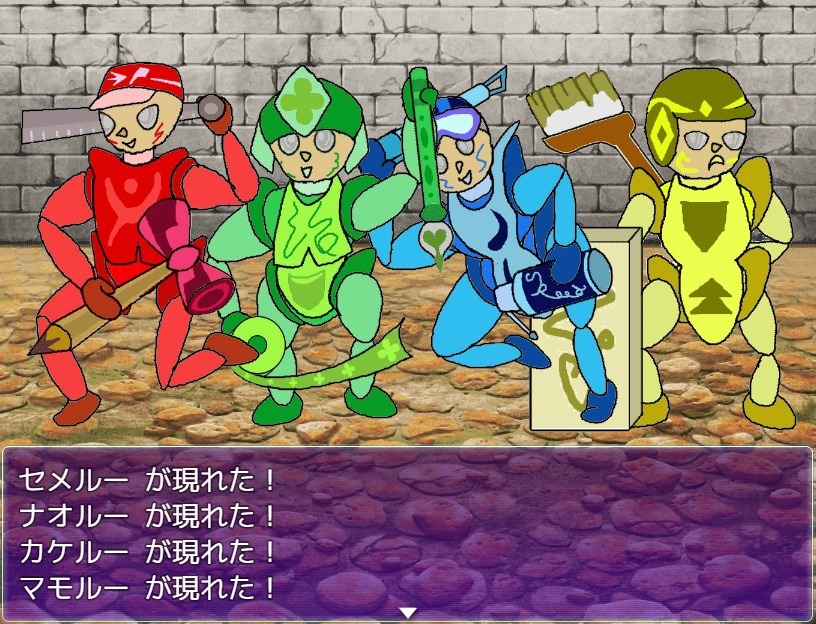 180 Creatures!!
Imagine drawing 180 illustrations! It must have taken a long time to come up with the designs as well! As there are many creatures, I can't help but collect them all while playing. 😀