SYSTEM REQUIREMENTS
MINIMUM:
OS: WindowsR 8/8.1/10 (64bit)
Processor: Intel Core2 Duo 2.0GHz or better
Memory: 4 GB RAM
Graphics: DirectX 9/OpenGL 4.1 capable GPU
Storage: 1 GB available space
RECOMMENDED:
OS: WindowsR 8/8.1/10 (64bit)
Processor: Intel Core2 Duo 3.0GHz or better
Memory: 8 GB RAM
Graphics: DirectX 9/OpenGL 4.1 capable GPU / NVIDIA GeForce GTX750 or better
Storage: 1 GB available space
Video tutorials in English by Baz
Download Benchmark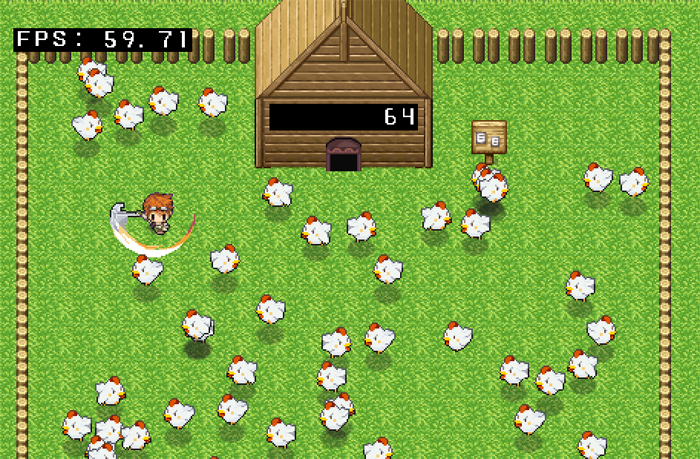 This software is used for benchmarking Pixel Game Maker MV's performance on your computer. 60 frames-per-second with 30 chickens on screen is considered to be the minimum performance line.
Controls:
Movement: Arrow Keys  Add Chicken: A  Remove Chicken: Y  Attack: X
*If receiving an error message for missing DLLs, please confirm that the VC2010, VC2012, VC2013, and VC2015 redistributables are installed.For Windows 7 and Windows 8 users, updating to the latest OS version via WindowsUpdate may be required before the rebistributables can be installed.*
Check out these games created on Pixel Maker MV!